Monthly Manager Notes by Jordan Bracken
One of the most overlooked and asked questions is "how often should suspension be serviced?". When purchasing a bike or servicing a bike from Rapid Cycling, we want you to have the best performance out of your product. Small things like wiping down the fork stanchions and cleaning off the seals after every ride can help keep the fork working at its best for longer. This way you can meet the manufacturer's recommended service intervals with little to no hindrance to your riding. 
Our service department has seen countless times where customers will skip over a suspension service because the myth is a suspension service is not necessary. It does cost money and time away from the bike. But the manufacturer of these suspensions give us the guidelines for these services . 
Fox Recommendations - 
Fox recommends at a minimum all of their suspensions to be fully serviced every 125 hours or yearly. This is a complete removal of the suspension (shock, fork, dropper), rebuilt damper, replace all o-rings and seals, and an oil change. During this process we will inspect the suspension for any damage or replacement of mounting hardware. 
We do recommend periodically servicing within the years full service. This would be a replacement of oil, foam rings, and seals and wipers. A lower service will keep your suspension working smooth in Southern Utah's rough and dusty conditions. 
RockShox Recommendations -  
RockShox has an earlier recommendation from Fox. This is similar to our suggested periodic service. RockShox service recommendations are listed below.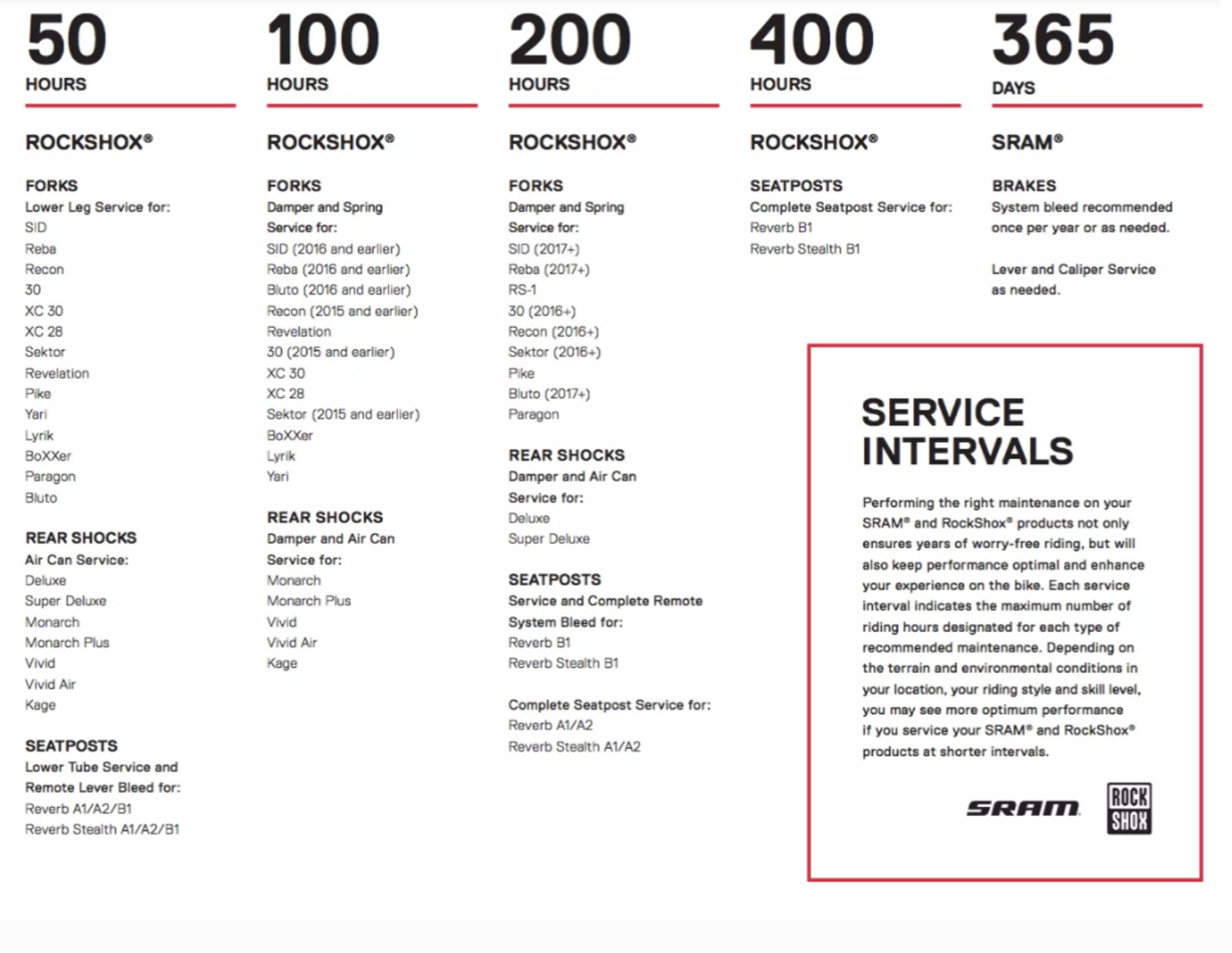 Other Suspensions - 
Sr Suntour, DVO, and Marzocchi follow the same intervals as RockShox. The key to most suspensions to keep it clean and service it often. 
Service Prices - 
Advanced Fork Service - $100 + Parts
Fork Service (Lowers) - $60 + Parts
Advanced Shock Service - $80 + Parts
Shock Service - $40 + Parts
Dropper Post Overhaul - $40 + Parts

All of our services use Fox and Rockshox service tools. We put Fox and Rockshox recommend oil and lubricants. We use manufacture specs to properly torque and lubricate your suspension. Our staff is certified through Rockshox and Fox. Our services are fairly priced and with our turn around guarantee you should be out in riding in no time. We want you to have the best experience on your bike.